Why Partner With Us for Your Title Curative Needs?
The process of securing a property, whether commercial or residential, is often exciting. But a defect in the title can be a major drawback to advancing the process. It also undermines your dedication to providing hassle-free transactions and derails your clear to close. Until title issues are resolved, your project will be halted. For a real estate development company, that might mean losing significant revenue. For a property hunter, defective titles narrow the odds of purchasing a dream property. 

Don't miss the chance to offer superior title clearance services to your clients and their borrowers/buyers. Partner with The Einfach Group (TEG) to leverage our quality and client-focused title curative services. We've been in the sector for nearly a decade, working with key decision-makers in large and mid-sized title companies, law firms, and mortgage lenders. Through our title curative solutions, we've helped them cure ambiguous and erroneous titles and speed up their clear to close timelines. 
You can turn to us for help when you need to resolve any issue or situation with your title, from lien verification, land descriptions, marital interests, and divorce decrees to UCC files, obtaining payoffs, and intestacy certifications. TEG boasts unmatched CRM pipeline management, following up each phase of your lead's journey from the moment you get an incoming sales opportunity to the time you close the deal. Whether you need our end-to-end title curative solutions or need specific assistance with title defects, we are here to TEG is here to offer professional help. 
Why Partner With Us for Your Title Curative Needs?
Since our founding in 2013, our focus has been to provide differentiated services to ensure your real estate transactions, processes, and instruments are streamlined. We know that the industry is filled with many title curators. You have many options to choose from, but we believe that we are your best partner. 
The characteristics below differentiate and give us a competitive edge against other providers:
99.7% Quality
As your trusted, seasoned title curator, we understand the significance of quality real estate files during transactions. Your reputation and the time taken to close a deal are also hinged on the level of quality. That's why our employees are dedicated to ensuring first-time accuracy rates in rectifying any filing or clerical errors in your title. We not only keep the promise in our SLAs, but we also simplify the closing process to scale your enterprise at a faster rate than most of our competitors. 
Many companies in our field use deceptive marketing strategies, promising clients 100% file accuracy, yet they fail to deliver. We are an ISO-certified service provider, and you can expect to receive high accuracy work that eliminates any financial risks or costly quiet title actions. 
High Close-to-Clear Turnover
Whether you're a mortgage lender, title company, or a seasoned land development company, our high filing turnover rates can help you speed up your property transaction and ownership transfers.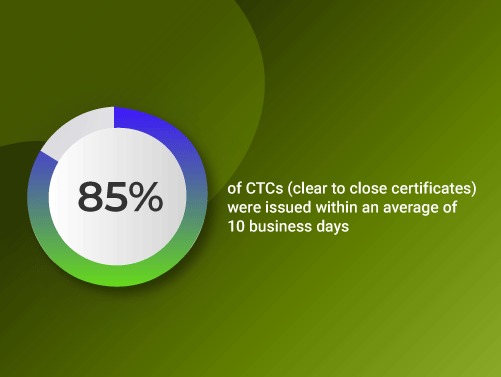 While other outsourced title curative servicers have extended timelines, we speed up the process of delivering clean and error-free titles without low-balling our quality and accuracy levels. Over 85% of the title files and certificates clear to close with an average turnaround time of 10 business days. That not only enhances your experience with us, but also saves you time and money, shortening your transaction cycle.
Highly Reliable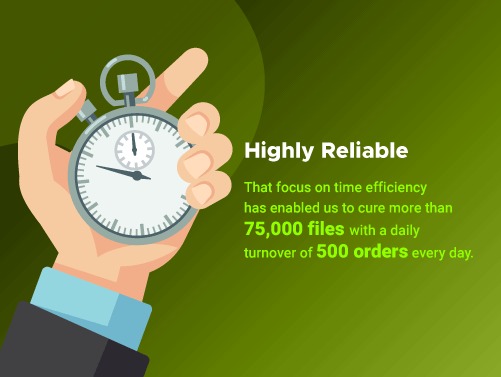 We understand the importance of closing deals as quickly as possible while not compromising quality. You can trust The Einfach Group to rectify defective titles, regardless of the number or severity. Our committed experts enable us to scale rapidly to meet your volume demands and month-end volume increases. 
We back our title curative services with powerful process automation software to bypass time constraints. That focus on time efficiency has enabled us to cure more than 75,000 files with a daily turnover of 500 orders every day. Therefore, you can depend on us to rapidly roll out your clear-to-close titles, helping you meet your real estate sales goals.
Additionally, we have specialized processing capabilities to cater to your unique title needs, including Texas properties.
Highly Specialized Staff
When you partner with TEG, you get unrivaled access to the sharpest minds in the industry. Our team of knowledgeable, experienced, and collaborative experts are ready to work with you to resolve any issues with your title. 
They will review title commitments to assess vested interests, obtain any missing documents or certificates, foreclosure information updates, and liaise with other interested third parties throughout the curative process. Besides that, they are friendly professionals with excellent communication skills and in-depth knowledge of the reserve mortgage process. Whatever inquiries or concerns you have with your transaction, our experts will be more than glad to answer them. 
High Staff Retention
High employee turnover dents a business's finances and contributes to inconsistent quality and low customer experience (CX). We have discovered that high employee retention is key in ensuring that our title curative services meet high quality and accuracy levels. 
At TEG, we achieve high employee retention by ensuring we hire the right talents, cultivate strong company culture, provide career development opportunities, and build strategies to minimize turnover intentions among our employees. 
We also ensure scheduled working hours and workload distribution management to prevent burnouts and work-related health problems. With these systems in place, our title curative experts develop profound job satisfaction. That enables them to carry out their duties skillfully to serve you better. 
Partner with TEG and get professional, quality, and timely title curative services
Is your ambiguous or erroneous title issue blocking you from closing? Come to TEG today and get reliable, expert, top-tier, and time-efficient title curative services. TEG can meet your volume demands without giving up on quality for lean transaction processes. Contact us today and let our title curators set you up for a hassle-free BPO experience.