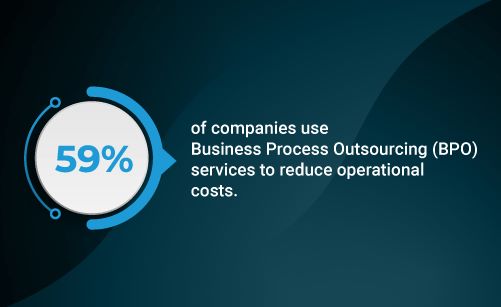 A survey of business leaders shows that 59% of companies use Business Process Outsourcing (BPO) services to reduce operational costs. Other benefits organizations get from a BPO provider include: 
The Einfach Group (TEG) is Your Reliable Partner in Real Estate Services
Improved support functions like bulk data management

Optimized customer services

Improved efficiency in business operations
If other businesses are benefiting hugely from BPO services, you should also hire a BPO provider now to leverage the reliable services in your title company. But if you're still unsure whether it's a good idea, here are the undeniable benefits of working with a BPO provider.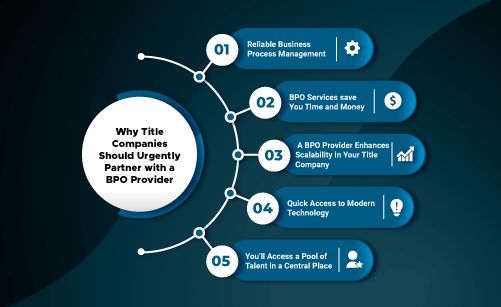 1. Reliable Business Process Management
Getting the facts right is the pillar of your title company. For this reason, you need a skilled BPO provider to help you conduct a thorough title search and analyze liens, deeds, and other documents to leave no room for errors. After all, BPO providers have the technological resources and a reliable team to handle your business processes accurately. 
Additionally, BPO providers offer 24/7 business support to ensure you serve your customers in real-time, which comes with various perks. First, you get to solve your customers' problems immediately and fast, putting you ahead of the competition. Second, you won't lose potential customers since your business will be running continuously, helping you grow your audience and boost your revenue. 
The 24/7 BPO services also help you demonstrate commitment to your customers, because you'll be available anytime they need you. That way, it's easy to win their loyalty and stimulate brand advocacy. 
2. BPO Services save You Time and Money
Real estate business processes can be overwhelming sometimes. You have to dive deep into title research and identify the ownership history, come up with the actual owner, and draft a title abstract. You also have to handle title insurance, closing, and funding. 
Partnering with a BPO provider reduces your business responsibilities by handling some of the real estate processes without the need to hire an army of employees. That way, you access dozens of title services from a central place, saving you time and money you can invest in other core business activities. For instance, a BPO provider can handle a property's title and tax searches, escrow and closing services, and vendor management to lift the responsibilities off your shoulders. 
Hiring a reliable BPO provider also reduces your internet bills, office space, computer hardware, and software costs. After all, BPO providers have the necessary resources to handle your company's needs without hurting your profitability. 
3. A BPO Provider Enhances Scalability in Your Title Company
When scaling up your company massively, you may need more stuff, more equipment, and larger office space, which translates to costly expenses that may limit consistent business growth. On the other hand, outsourcing your business process to a credible BPO helps you scale up or down seamlessly. 
For instance, you won't need to build an in-house team or invest in extra office space when looking to scale up. A BPO reduces the complexities of expanding a physical enterprise, making it easy and affordable to grow your title company. 
Even better, partnering with a BPO provider means you'll work under a contract which you can terminate anytime you want. For this reason, you can quickly scale your business to your liking without any fear. 
4. Quick Access to Modern Technology
Traditional real estate transactions like old and paper-heavy processes are too complex, time-consuming, and costly. If your title company relies on such old methods, you're more likely to lose business due to spending much time on one real estate deal. 
In contrast, working with a BPO provider gives you access to tech and online-based real estate solutions. For instance, modern BPO providers use technologies like the cloud, machine learning, virtual reality, and blockchain to streamline real estate processes.
With access to modern technology, you get benefits like: 
Improved efficiency in your company: 

BPO providers use modern technology to handle repetitive workloads like asset management, giving you free time to focus on other tasks. 

You get to make informed decisions fast

: Technology helps you collect data and interpret it, which gives you valuable insights that you would otherwise miss.

It gives your title company a competitive edge: 

Technology used by BPO providers can help you stand out from the competition through integrated systems, cloud-based solutions, automation, and smart-building technology. Such solutions help you automate manual tasks that require less critical thinking to create more time for one-on-one clients. 
5. You'll Access a Pool of Talent in a Central Place
Building a solid team of employees in your title company is challenging. You'll have to scour the internet and interview several people before getting the right team for your business. But if you hire a trustworthy BPO provider, you'll have access to a reliable team you count on to handle all your tasks. 
The Einfach Group (TEG) is Your Reliable Partner in Real Estate Services
With dozens of BPO providers in the market, why should you hire us? 
We Have the Experience
We've been around for almost ten years now, working with business leaders in various companies. We've helped other businesses succeed. So let us help you do the same. 
We are a Reliable Team That'll Take Your Title Company to the Next Level
We have staff working 24 hours a day because we're committed to driving tangible results in your business. You can count on us to deliver quick turnaround services to boost customer engagement and satisfaction in your organization. 
We are a Certified Business Process Outsourcing Provider
Your data privacy and security are the top priorities. For this reason, we have attained the certification for our Information Security Management System (ISMS) as a symbol of best practices for data security and privacy. In addition, our technology and processes are reliable, so you can trust us to handle your company's operations. 
We Offer Affordable Prices
We've developed solid proprietary software that allows us to minimize costs, which helps pass the advantage to you. On top of that, our experience in the industry equips us with cost-saving tricks without compromising the quality we deliver. 
Contact us now for more information.